Shipping and Delivery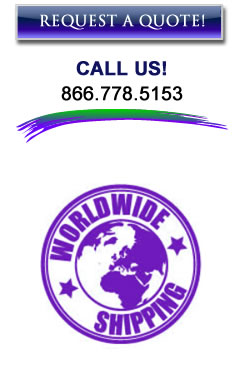 The Industry Leader and Brand name in Outdoor-Fitness Equipment
Phone: 1-877-517-2200

Outdoor-Fitness is able to offer discount freight rates with top national and international carriers. All shipments will be made via the quickest and most economical way unless a specific routing and/or delivery time frame are requested.
The equipment will be shipped from our warehouse in Denver, Colorado. Shipping costs usually run in the range of 11% to 19% of the total equipment cost for domestic (U.S.) orders, and 15% to 35% of the total purchase price for overseas orders. The total shipping costs depend on the quantity of items, total weight and dimensions of the order, as well as the location of the order destination, but these can vary. Please call 1.877.517.2200 or e-mail (info@outdoor-fitness.com) for a Quotation of Equipment and Shipping.
Please allow at least 2 to 4 weeks for delivery of domestic orders when all items are in stock. For overseas orders, please allow a minimum of 45 to 60 days for delivery of the equipment once your final order is placed. Your equipment will be delivered to you during normal business delivery hours (8:00am - 4:30pm, Monday thru Friday), unless specific instructions are given to us at the time of your order.
At Outdoor-Fitness, we try to anticipate your equipment delivery needs. Most common carrier shipments are "Tailgate Delivery", which means that you or your organization will provide adequate personnel or equipment to unload the equipment shipment from the truck when it arrives. The equipment is very heavy, and will need at least two strong individuals to help unload. If storage of the equipment is necessary before the installation, it is recommended that the equipment be stored indoors in a dry and secure area until the scheduled installation begins.
*Additional Shipping Services PLEASE NOTE:
If you or your organization require additional shipping services, please order these services at the time you request your Outdoor-Fitness Equipment Shipping Cost Quotation. This is because the trucking industry will normally increase the costs to you for additional shipping services if you happen to order them after your order has been shipped.
Additional Shipping Services include:
Lift Gate Service
If for any reason, you may be unable to unload the equipment shipment from the freight truck, please order a "Lift Gate Service". If ordered, the driver will bring a special truck that has a lift gate device on the rear of the truck that will automatically lower the shipping pallets carrying the equipment to the ground. The driver is responsible for lowering your shipment to the ground; however the driver will not be able to help you move the equipment from the point of delivery. From the delivery point, you or your organization would then move the equipment to the installation area if needed. Please keep in mind, if using personnel to move the equipment from the delivery point rather than machinery, sometimes "Tailgate Delivery" is the best method. The reasoning being that, for personnel, moving the equipment directly from the truck at waist height is usually easier than lifting and moving the equipment from the ground to the installation site.
Residential Delivery Service - If the delivery location is a residential area or address, please request this service.
Phone Call Service - Your equipment will be delivered to you during normal business delivery hours (8:00am - 4:30pm, Monday thru Friday), unless specific instructions are given to us at the time of your order. If you would like to receive a phone call from the freight company 24 hours prior to delivery, please request this service and provide us with the best contact phone number at which to be reached.
Outdoor-Fitness takes extreme care to ensure that your shipment arrives in full and acceptable condition. When your shipment arrives, the carrier will provide you with a delivery receipt. It is vital that your ordered equipment is accounted for and that inspection for damage is done at this time, prior to signing the delivery documents. Claims for any missing pieces will not be able to be made by Outdoor-Fitness unless it is recorded on the delivery receipt documents. Any other damage to equipment noticed after delivery should be reported within 15 calendar days of receipt of delivery.
> CLICK HERE to read additional information in our Delivery FAQs (pdf)
Should you have any questions or need any further assistance, please call our Customer Service Department at 1.877.517.2200. We are happy to help you with anything you may need.