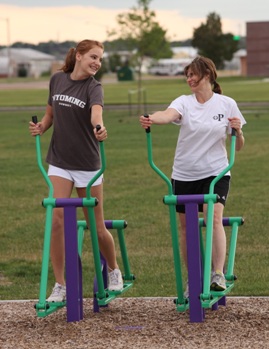 The Ski Walker is great for cardiovascular exercise whether it be a warm up or a full low impact work out. This item comes in both a double person and a single person station.
The exercise is suitable for all ages.
With the OUTDOOR-FITNESS, Inc. Ski Walker, ski into fitness cross-country style, and transform your body through steady, low-impact exercise. This clever piece of equipment delivers the burn and strengthens muscles without the need to book a vacation at a ski lodge! Plus, it empowers you to exercise out in the fresh air, making it great for nature enthusiasts who would rather avoid the gym and take in the scenery instead. Truly, skiing is a fantastic and fun way to lose weight, and this is the perfect device for those who want the high-activity benefits without the safety risks. The machine replicates the feel of cross country skiing, targeting big and small muscle groups for a full body workout. You'll tone shoulder and leg muscles while activating your core for better posture and balance. This is the perfect tool for outdoor gyms and conditioning centers, and the durable design will hold up to the elements. Add it in with other machines to vary your workout and deliver fantastic fitness results. You'll love experiencing all the fun of skiing without the expensive gear or snowy wipeouts.
The OUTDOOR-FITNESS, Inc. Ski Walker is an exercise station which delivers cardiovascular benefits by simulating the cross country skiing motion.
The exercise completely avoids the impact stress runners often experience on feet, knees, hips and lower back. Many people cannot tolerate the jarring motion of jogging.
Walking is a good alternative but it does not stretch or fully activate the important muscles in the upper thigh.

The Ski Walker improves cardiovascular fitness. Exercise levels can be of 5 to 15 minutes duration. Experiment with various speeds and different levels of effort.
* Please specify double or single person station when ordering.
CLICK HERE for Installation Drawings
Single -- or --