>

AVAILABLE STANDARD COLOR SELECTION:
Outdoor-Fitness Equipment has a large, ready to ship stock of equipment in our Denver warehouse. The equipment comes in 2 standard color selections at no additional cost.
>AVIALABLE CUSTOM COLORS: For additional custom colors, please add $850 per color to your order and an additional 8 to 12 weeks for delivery. If you would like to make a custom color change, the one time flat color change fee per color is applied to the total order: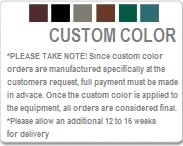 CUSTOM COLOR CHANGE
$850 per color
(Choose from RAL color chart)
*Flat fee for all pieces in your order*
*Please add 10 to 12 weeks for custom color delivery*
*Please CLICK HERE to read about custom color terms and conditions*

>> PAYMENT: We accept all major forms of payment including check, credit card, PayPal, bank hold, wire transfer, or purchase order from public or government organizations.

SHIPPING AND DELIVERY: Please contact us for a shipping cost quotation.
-NOTES-